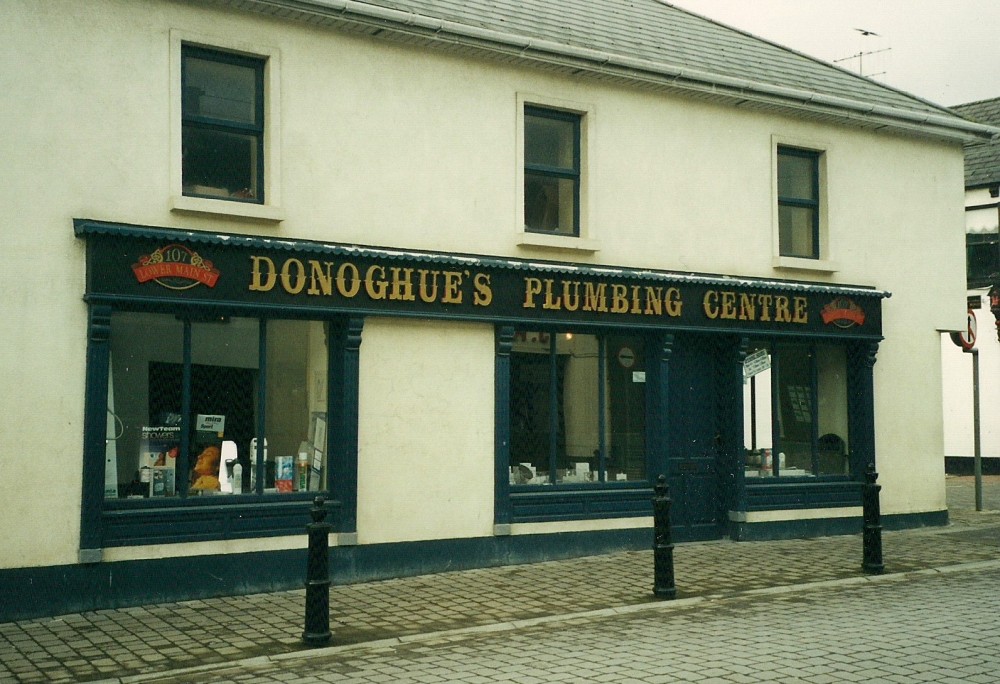 108, 107 BRIDGE STREET, SOUTH SIDE
There were once two premises here. The house that stood on your left was the home of Thomas Deegan1 a native of Camross and a distant predecessor of mine as Principal of the Heath National School. He taught there from 1865 to 1890 as did his wife Anne for a decade in the 1880's. In March 1901, Thomas and Anne were present here with their son Patrick, daughter Esther, and a grandchild Jeremiah McCarthy. On Census Night, ten years later, their son William (an army pensioner) had replaced Patrick and Esther.
The Deegans were succeeded by a Patrick Mahon, and he in turn - in the late 1930's - by Esther Deegan from Moyanna. It's interesting that two people, with the exact same name but not related, lived in the same house. Esther, whose small shop was invariably known as Essie Deegan's, was a great woman for news and, so the story goes, kept a mirror tilted towards the street. She was, incidentally, an aunt of Mick 'Mockler' Whelan who we'll meet further up Main Street. The premises were later acquired by Eamon Sheehan of Kilkenny Welding Supplies.
In the 1850's, three daughters of the lessor Michael Delany lived in the corner house. In 1875, the portion facing on to Main Street was the home of Michael Bradshaw; that fronting the New Road was occupied by his brother-in-law John Fitzpatrick. By 1901, the 'full house' was the property of Edward and Michael Wall. [Michael later emigrated to America where he spent the rest of his life]. By the time of the next census, Michael Boylan (see entry for 13, Bridge Street, North Side)2 and his wife Margaret (née Wall) were living here. He is described as a baker; she as a grocer and provision merchant. They had four young children - Edward (who will grow up to be a much-quoted historian and one of my guiding lights in this project), Peter (in time, Parish Priest of Borris in Carlow), Catherine, and Mary known as 'May' who eventually became Mrs Tony Delaney whose premises we'll meet later. The household also included Elizabeth Drennan, a general domestic servant. Margaret Boylan died in 1913 aged only 36: her husband lived to be eighty and died in 1958.
Entering Eddie Boylan's shop was like stepping back into the 19th century - sacks of meal, brass scales, tea and snuff canisters.... For many years the shop retained old-fashioned shutters and, while I don't remember this myself, it was apparently a custom of Eddie's to leave a single shutter in place in the middle of a window to signify that someone in the town had died. According to another version, you could tell by how many shutters were erected - or how they were positioned- whether the deceased was a man or woman. Boylan's corner was a regular haunt of the town's corner boys. I'm sure that some of their 'oul' colloguing' concerned stories about the great man himself; maybe the one about how, during World War II, he was so convinced that we were destined to have new masters that he started to learn German!
Eddie Boylan died in 1986 aged 80 (the same age as his father)3. Donoghue's, incorporating what were the Deegan and Boylan premises, opened for business in 1993. They closed down in the summer of 2016 and, in November, the Leinster Express newspaper relocated its offices here from the Dublin Road.
-----------------------------------------------
1 Not Dugan as printed on the online 1901 census.
Eddie Boylan notes - but gives no date - that this house was once occupied by Brandons, harness-makers (who later lived on Main Street opposite Bull Lane), and an ex-soldier, 'The Zulu Man' Lynch - presumably a veteran of the Zulu War (1879) - who plied his trade as a barber here.
2 I have been told that the Boylan family originally came from County Monaghan to work as coopers on the Blandsfort estate in Ballyroan.
3 Surely it's time for some official recognition of what he has contributed to our town?