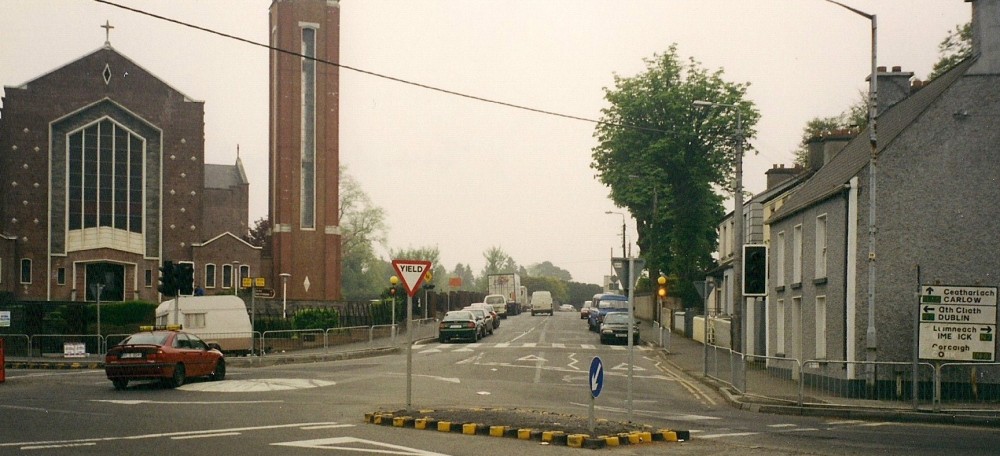 THE STRADBALLY ROAD
On the night of November 5, 1883, a 'large and representative' meeting was held in Stradbally to discuss 'the promotion of a line of tramway or light railway' from the village. The meeting was chaired by Captain Cosby and, 'in the course of a long speech', Mr John Townsend Trench, land agent, magistrate, inventor and amateur architect, outlined the three projects under consideration. The upshot was that Athy and Portarlington were passed over in favour of Maryborough. A resolution was adopted approving the scheme, but that was as far as the Stradbally to Maryborough line ever went. But maybe its time has come at last, and we are now ready for tramloads of electric picnickers trundling past the Rock of Dunamaise, down the hill past Aughnahilla, Park, Grange and Newtown, to be welcomed at the terminus, Stradbally Hall, by Mr Thomas Cosby....
~
Until the early 1960's, a row of cottages and two-story houses stood where the church railings are today. They were demolished to make way for the new church. Also done away with was the Parish Priest's garden, the entrance to which was opposite the Parochial House and whose apple trees led generations of youngsters into temptation. In June 1962, Rev. Dr Thomas Keogh, Bishop of Kildare and Leighlin, formally blessed the site and turned the first sod of the new church. [That same year, His Lordship gave yours truly the symbolic slap on the face and pronounced me a "strong and perfect Christian and soldier of Jesus Christ". Ten years, later I deserted]. Because Bishop Keogh was ill at the time, the official opening ceremony of SS. Peter & Paul's, in September 1965, was performed by Monsignor James Conway from Bagenalstown. That caravan, incidentally, wasn't full of religious holidaymakers, but used to sell newspapers after Sunday mass.
~
Today, the first building on the right above is a private residence named Triogue House. In 1850, it - No. 3, Stradbally Road - was the home of Michael Hayes, clearly a man of property as he also held the lease of five other houses on this road. His immediate lessor here, and also of two adjoining houses1, was Lord Congleton (See entry for No. 19, Market Square).
In a newspaper ad in September 1890, William Crennan announced that his partnership with his brother had been dissolved, and he had moved his business from Abbeyleix to these premises. Crennan's Maryborough Coach Factory (Inside and outside cars, Rallis and Polos) - sometimes referred to as the Triogue Coach Factory - flourished until the mid-1920's. As early as 1911, he also described himself as a housepainter and decorator and, in 1927, advertised2 apartments to let (Garage included): had he foreseen the inevitable ubiquity of the motor-car?
-----------------------------------------------
1 On next page.
2 In the Leinster Express. March 9.