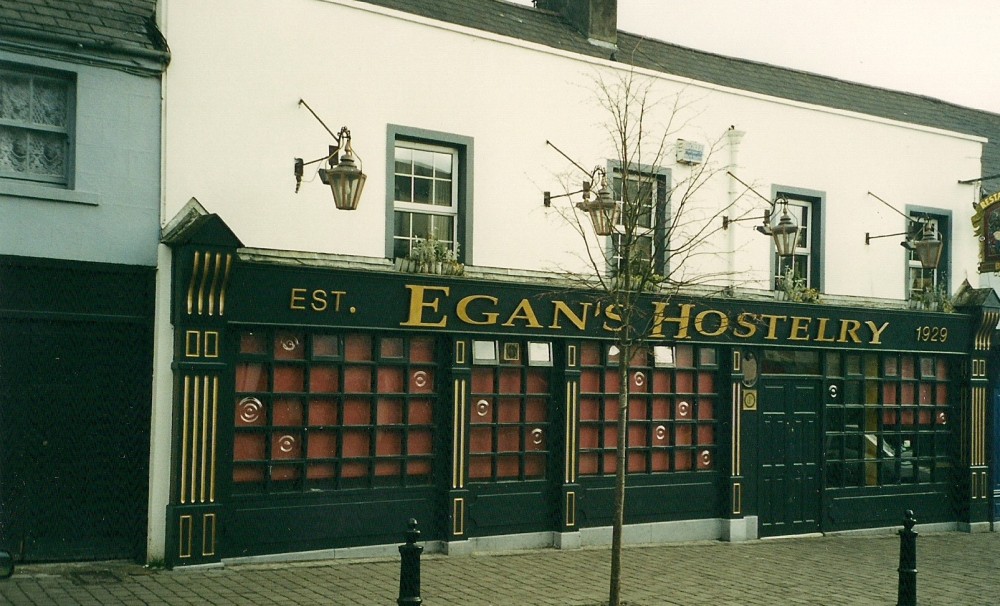 25 & 24 MAIN STREET, NORTH SIDE
Two separate houses once stood on this site. For almost thirty years from 1850, the one on your left was leased from Margaret Brandon by the previously-mentioned postmasters John and Thomas Miller. As Eddie Boylan suggests, it is more than likely that the premises also housed the Post Office at that time. The Millers were succeeded by the Conroys: In 1901, Harriet, a native of Dublin and widow of Richard, was living here with her four children. Ten years later, two families shared the house (a) James Marnane, a retired RIC constable originally from Co. Limerick and his wife Rose from Sligo (b) Joseph Grenham, another RIC pensioner from the King's County, and his teenage daughter, Mary Anne. In 1912, James Marnane's portion was converted into an office for India-born solicitor W.X. White who, at this time, was living at No. 1 Park Villas on the Mountmellick Road (occupied today by Teagasc, the Agriculture and Food Development Authority.
In the late 19th century, Alice Horan from County Wicklow opened a shop and tea-rooms - Cakes of all shapes, makes, sizes and prices - in the building next door. On the night of the 1901 Census, she was here along with Annie Ovington, a confectioner, Maud Wilkinson and Sarah Metcalfe (both apprentices) and Lillie McNamara, an octogenarian boarder from County Tipperary. By 1904 she had moved The Maryborough Restaurant to more convenient premises across the street (more of which later), but she was still living here on Census Night 1911. Also in the house were her sister Helena and her husband John Evans from County Wicklow and their three young children. A boarder, William R. F. Manning from County Dublin is described as a clerk in Holy Orders, and the final member of the household was Sarah Jarret, who was, as you might not infer from her surname, a servant. The restaurant was later run by Mrs Annie Delaney-Lalor, and it was from her that John Egan purchased the premises in 1929. After much expansion and refurbishment, Egan's evolved into the landmark premises it has been for many years.
As recalled in the Leinster Express (23/4/1955), John Egan introduced ice-cream to the town in 1930. Four years later, according to the same paper, he was the first in Ireland to manufacture choc-ices and, in 1948, opened an ultra-modern ice-cream plant (one of whose employees, incidentally, was Patrick McCormack, father of colourful local poet and politician, Joe 'Hesh' McCormack). The article concludes with the news that 'he is now experimenting with a new process for making the latest in ice-cream delicacies and iced lollies'. Right up to the 1960's, Egan's ice-cream was a great favourite with the town's young and old.
An interesting feature of Egan's - and one which has survived various changes - is its 'Fox' mural. Dating from the late 1950's, its vulpine characters are said to represent various customers of that period, but I've met no-one who could - or would! - match a local with his or her foxy alter ego.
In the early 60's, the restaurant became fully licensed after John Egan bought McGurk's public house - see later in this project - and used that license. Throughout that decade, Egan's, noted for its friendly atmosphere, was a regular watering-hole for the ubiquitous showbands who traversed the length and breadth of the country. Most of the biggest stars of the time - Spit on me, Dickie! - wined and dined here and, as word got out - Hey lads, the Royal is in Egan's! - they were invariably besieged by young fans begging for signed photographs. Collecting such treasures was an obsession with some of the town's teenagers, yours truly included....
In October, 1963, John Egan, one of the most progressive and successful businessmen the town has ever known, died tragically while on holiday in Torremolinos. Most recently, the business was run by his grandson and namesake. In October 2014, it was the talk of the town when people heard that Egan's had gone into receivership. The premises were bought by Declan O'Loughlin (see Nos. 29 & 30 Main Street North) ) and, on May 1st, 2015, he opened the Blue Door, a bar and carvery, nightclub and live music venue here. Three years later, the premises were leased by a partnersip that included Bernard Brogan and Kieran Lillis, Dublin and Laois senior footballers respectively. And so, in July 2018, the Blue Door was re-branded as Lilly's.