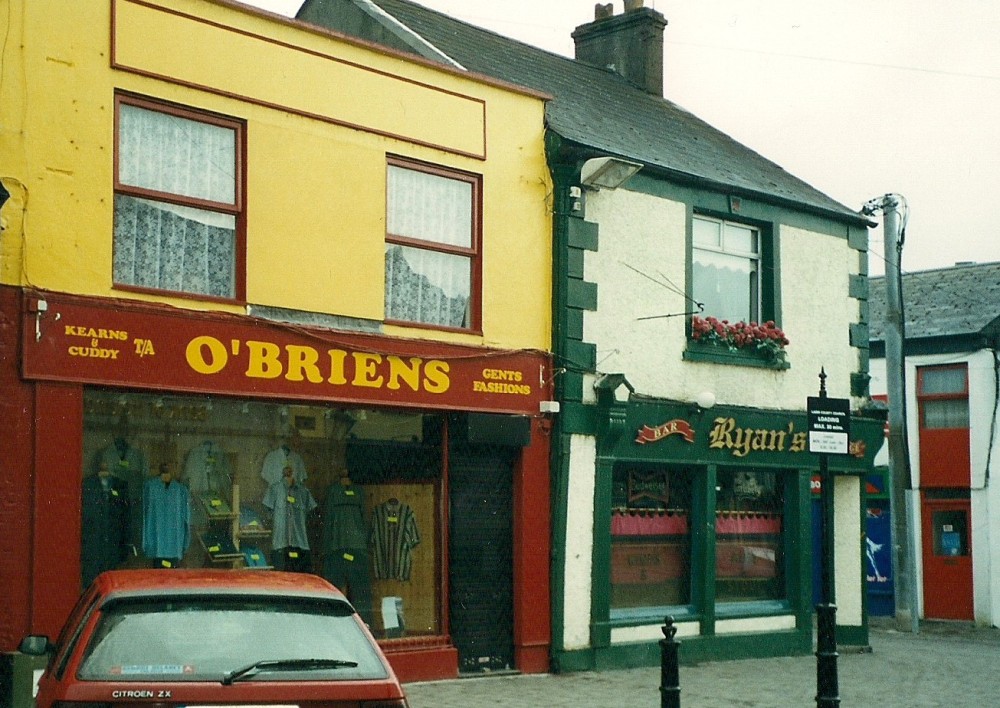 35 & 34 MAIN STREET, NORTH SIDE
O'Briens: In 1850, Daniel Farrell, a baker, was leasing the building on this site from Thomas Young who, as we've just seen, had a business next door. From at least 1871, and for the best part of a century, it belonged to the aforementioned Kelly family. I don't know when it was taken, but there exists a really evocative photo of Kelly's: loaves of bread in the windows, sacks (of flour?), and a small bread-cart with the legend J. Kelly, Plain/Fancy Bakery, Maryboro' parked outside. And, standing at one entrance, a confident-looking gentleman; at the other, a timid well-dressed youth, all hunched shoulders and arms stretched by his sides. To my eyes, they are proprietor and shop-boy, but maybe not.
*
The first railway in Ireland, running between Dublin and Kingstown (Dún Laoghaire) was built in 1834. The engineer/contractor was William Dargan, a Laoisman - though Carlow sometimes claims him too - who is often referred to as "the father of Irish railways." And his talents didn't stop there. He also built roads and canals, ran mills and hotels, and carried out major improvements to Belfast harbour. The Titanic was, in fact, built on the section of the harbour known as 'Dargan's Island'.
In his lifetime, William Dargan had the great honour of seeing a statue of himself unveiled in Dublin, and he was visited in his home1 by no less a personage than Queen Victoria who offered him a baronetcy, which he declined. The National Gallery also has a 'Dargan Wing' and, in recent years, the new Luas bridge in Dundrum was named after him. As we'd say nowadays, not bad for a farmer's son from Killeshin! He was also known for his generosity and a plaque at Carlow Railway station describes him as 'The Man with his Hand in his Pocket'. He died in 1867 and is buried in Glasnevin Cemetery.
After much wrangling by landowners for compensation (one local clergyman put in a claim dismissed as "extortionate"), the railway came to Maryborough in 1847, 'Black '47', the very worst year of the Famine. Within a few years, The Railway Hotel of Maryborough, owned by John Mathews, stood on the site of Ryan's and extended back along what was known as Church Lane at the time. The immediate lessor, incidentally, was George Breading (1779-1853) who lived in Coote Street and lies with his wife Anna Marie, née Hill, in old St Peter's Churchyard. (See next page). John Mathews had been in business here since 1845, so it is likely that his earlier establishment was simply renamed to take advantage of the railway's arrival.
After his death in 18722, the hotel was closed until April 1877 when his son Henry reopened it under the name Mathew's Railway & Commercial Hotel. The Freeman's Journal announced that the new premises were completely and most comfortably furnished, and fitted up throughout in the best modern style. Henry Mathews, it added, hoped to "merit the patronage so liberally bestowed on my late father". The hotel offered their customers more than food, drink and a good night's sleep: in the 1890's, for instance, the Irish-American Dental Surgeons were there on alternate Mondays to look after all your dental requirements.
Henry's brother, Thomas, was better known as a historian than hotelier. His works include An Account of the O'Dempseys: Chiefs of Clan Maliere (1903) and The O' Neills of Ulster (1907). He also contributed to a history of the Queen's County and County Kildare, serialised in the Leinster Express (1897-99) and published in book form in 1901. More than a century later, it was reissued by the late local historian Frank Meehan.
Henry Mathews died in 1910 and the premises were taken over by the Fitzpatrick family. I have been told that they discontinued the hotel business, but I can't be certain of this. In February 1915, for instance, an ad appeared in the local paper looking for a good steady man to work as porter in their Licensed House. Does 'porter' not imply 'hotel'?
Patrick McLogan - aka Pádraig Mac Lógáin (1899–1964) was born in County Armagh. He joined the Irish Republican Brotherhood and the Irish Volunteers and, in 1917, went on hunger strike in prison in England with Thomas Ashe. He subsequently commanded of the IRA in South Armagh during the War of Independence. After the Civil War (1922-3), he bought Fitzpatrick's and began life as a publican. (Fíonta, biotáiltí, lionnta. Freastal fial flaithiúil). In the 1930's, he was an abstentionist MP for South Armagh and subsequently twice President of Sinn Féin. In the 1950's he moved to Dublin3 and, in 1958, the pub was bought by Phil Lewis who continued in business here (All sportsmen welcome) for thirty-seven years until Mick Ryan from Cappawhite, Co. Tipperary became the new owner.
Both buildings in the picture were demolished in 2006 and rebuilt as a three-story premises with O' Briens replaced by Ryan's and the latter by Boylesports.com. The upper storey houses a casino and Caesar's Card Club.
-----------------------------------------------
1 Mount Anville; a well-known Dublin secondary school today.
2 His remains were taken by train to Dublin and, like William Dargan, interred in Glasnevin Cemetery.
3 In July 1964, Patrick McLogan was found in his Blanchardstown home, dead of a gunshot wound... There used to be a plaque commemorating him on the wall above the pub's front door.