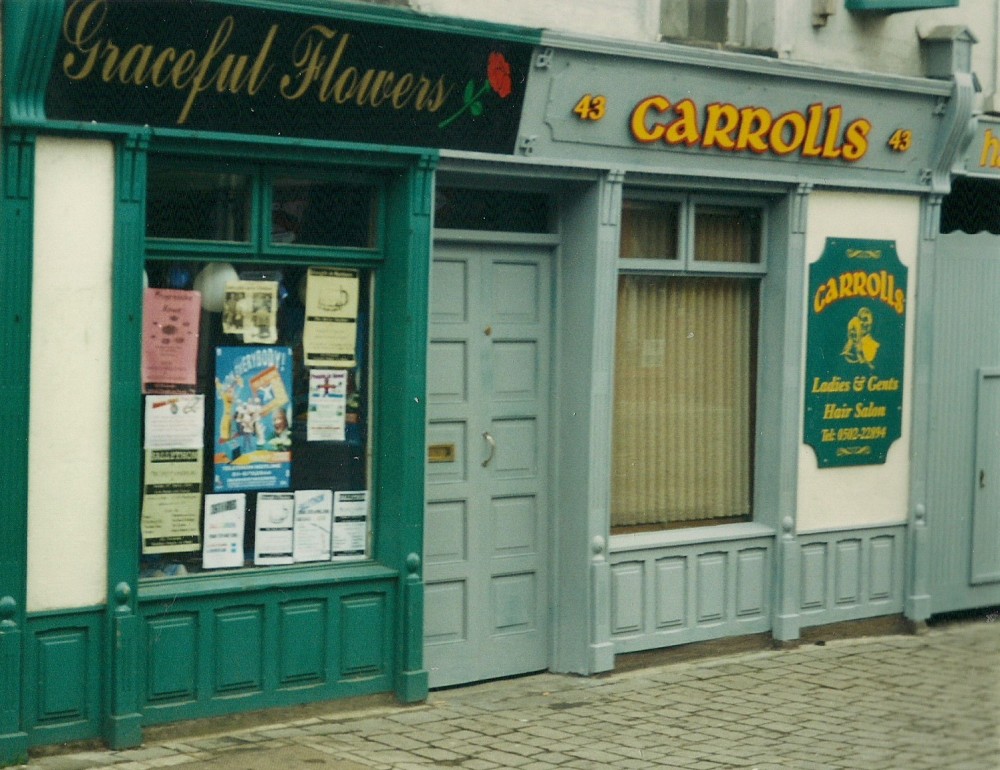 43 MAIN STREET, NORTH SIDE.
There you are, a hundred years ago, a dashing young boulevardier dickeying yourself up for the Grand Concert in the Town Hall. And your first port of call is Maryborough Toilet Saloon where, under the expert hands of brothers Charles and Albert Knapton, you will have your moustache curled and your hair washed, cut, and pomaded. Then off you go, sashaying towards the Square, a spring in your step and a certain young lady on your mind....
Back to reality....
In the 1850's, James Fitzgerald was leasing these premises from Mrs. Harriet O'Brien. I'm not sure whether this was the James Fitzgerald who had a bakery in the town from the 1830's, or the draper in the 1870's. Or neither of these? Subsequent lessees were James Young - a grocer and confectioner in the 1890's - and Michael McDonald (possibly owner of the Continental Cafe referred to as being here by Eddie Boylan, and about which I could find no information). These were followed by the tonsorial Knaptons. In the house on Census Night 1911, were Charles and Albert, originally from Bethnal Green in London, the former's wife Mary née Templing (See entry for No. 5, Market Square) - and their infant daughter, also Mary. Charles and Mary Knapton were the grandparents of Mick Dooley, the noted Portlaoise footballer who was part of the team that won the All-Ireland Club Championship 1982/3, and great-grandparents of Mick's nephew Colm Parkinson, whose achievements include an All-Ireland Minor Football medal in 1996.
After the Knaptons, Richard Bannan and Thomas Mara1 were occupiers here, and then it appears that the premises were divided into two: In the late 1950's, the portion on the left was owned by P. J. Hiney, Sewing Machine and Motorcycle Agent who also stocked young budgies, goldfish and all accessories! He also had a parrot whose party piece, apparently, was to whistle what a local lady insisted to me was 'The Camels Are Rockin' the Blues Away'. What a great title: far superior to the actual 'The Campbells Are Rockin' the Blues Away' from 'Rockin' Through the Rye' by Mr Kiss Curl himself, Bill Haley.
Mr Hiney and his Rock 'n' Rollin' parrot were followed by Christy Finnegan's betting office. The story goes that Christy, who had a reputation for being religious, was spotted on his knees praying for a particular horse to lose. Also spotted at the same time was The German Dunne praying for the same nag to win. 'The German' was a great local character, conspicuous on his black Raleigh Gentleman's bicycle; perenniel navy overalls, black beret, and gleaming white tennis shoes. For most of the 1980s, the betting office here was owned by Bernard Connolly.
Number 43. In the 1940's, a Joseph Lalor was the occupier here. One person told me that he was a barber from from Mountmellick, but I could find no other reference to him. In 1950, the business was advertised as Joie's (When your hair is not becoming you, you should be coming to Joie's). Next came William Carroll, succeeded by his son Ned, a barber who guaranteed his patrons Civility, Service and Satisfaction.
-----------------------------------------------
1 The name appears as Maher in the Cancellation Books, but I think that the actual occupier was Thomas O' Mara or Mara. The Edinburgh-published Macdonald's Irish Directory for 1957/8 has this entry: T. O'Mara, Hairdresser, Main Street. Furthermore, in 1911, a barber Thomas Mara aged 20, lived in No. 1, Coote Street. Add to this the fact that, immediately prior to him, Charles Knapton lived in the same house....