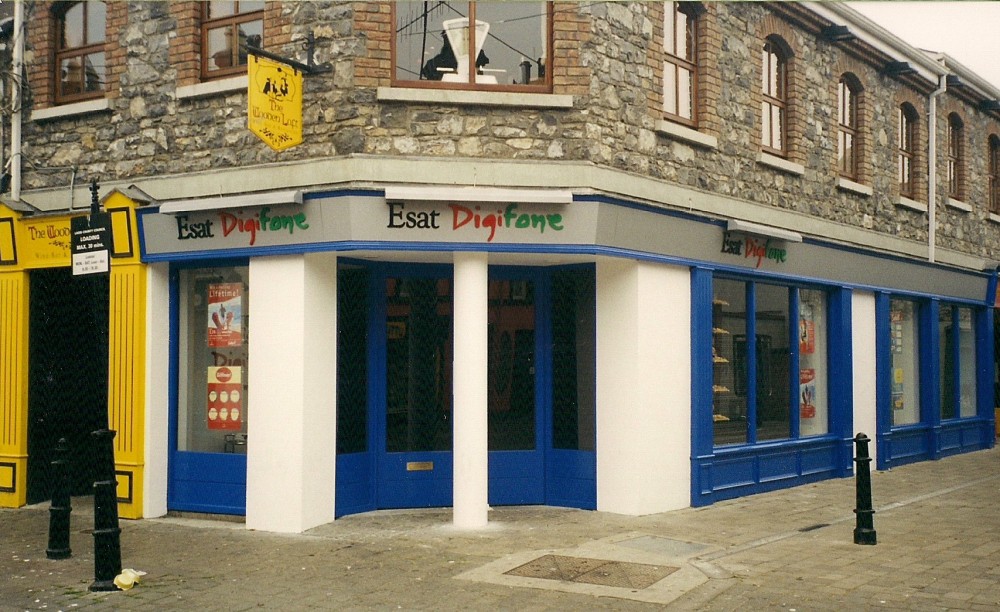 47 MAIN STREET, NORTH SIDE
In 1850, the house on this site was occupied by Eleanor Nix (the only instance of that surname in the entire Queen's County at that time1 and, after her, Eliza Malone. From the 1880's to the 1930's, Loughan's shop stood here. In 1911, Edward (back from his putative travels?) is described as a clothier; there's no occupation given for Catherine; Martin, aged 20, is still a scholar, and we also learn that Edward is a clerk in a military store, an occupation which may or may not chime with Eddie Boylan's comment referred to on the previous page. One notable aspect of the Census Form, incidentally, is Edward Loughan's beautiful Copperplate writing. Catherine Loughan died in 1919, followed by her husband four years later. Both are interred in the cemetery on the Stradbally Road.
Named as occupier here in 1937, John O'Brien was succeeded by Joseph and Elizabeth Conroy who lived here for many years. 'Nellie' Conroy's Hairdressing Salon and Beauty Parlour was very popular among the ladies of the town (1960: For the very latest techniques in modern hair-styling. New Continental cutting and and style-waving my specialities) and her husband was a builder whose contracts included, in the 1960's, the refurbishment of the Bank of Ireland in Bank Place. After the Bank moved to Main Street, the vacated building became the prison Officers' Club.
There were six Conroy siblings; Mary, Rita, Ann, Eleanor, John - affectionately known as Ulick after someone remarked that his jacket was similar to one worn by television personality Ulick O'Connor! - and Joe. Like myself and many others of our generation, Joe was a member of the CBS band and, like his sisters, a wonderful singer whose rendition of Róisín Dubh was often recalled and admired years later by his former schoolmates.
Joe's talent was encouraged by Brother Seán Nolan who is still remembered for starting a school band that won prizes both for concert performances and marching competitions. (In the latter context, incidentally, the band debuted their new green and red uniforms at the County Final in O'Moore Park in November 1958). Seán Nolan, affectionally known as 'Pencil', instilled in his pupils a knowledge and, more importantly, a great love for all genres of music. Marches, Broadway tunes, Traditional Irish, Light Classical; he introduced them all, even, on one particular occasion that had a profound effect on me, inviting The Diamonds, a band of local young lads - Willy O'Reilly, Donal Bland, Mickey Robinson and Jerome Dooley - to perform for his pupils. Something your average Christian Brother in the mid-1960's, devoted to Faith of our Fathers and The Bells of the Angelus, would have run a mile from. Like the music he loved, his legacy continues to resonate down the years; there are children yet unborn who will grow up with a love of music, traceable back to Seán Nolan, a remarkable man who, in my experience, gave the Christian Brothers a good name. To paraphrase a favourite saying of his, Ní bheidh a leithéid arís ann.
In 1981, Joe Conroy opened Joe's News Stand here (Come in and browse around. Deposits taken on all items.) and, in the '90's, a video rental shop, Dial-A-Video. After Esat Digifone came Little Piggys (Shoes for Kids) which, in 2013, relocated to the Shopping Centre and was replaced by Hairhaus selling hair extensions, nails and eyelashes, spray tan and tablets guaranteed to triple your hair growth. Next here was 'No. 47', a Wine & Cocktail bar which, in turn (2017) was followed by The Curvy Gurl (Fashions for Curvy Women Sizes 8 through 32). In July 2018, a Resource Centre of the Alzheimer Society opened here.
The Wooden Loft Restaurant on the second floor was succeeded by the Palki and Mayur restaurants, both serving Indian cuisine. The latter is still in business here.
-----------------------------------------------
1 Seventy years earlier, an Oliver Nix was Sub-Sheriff of the county.