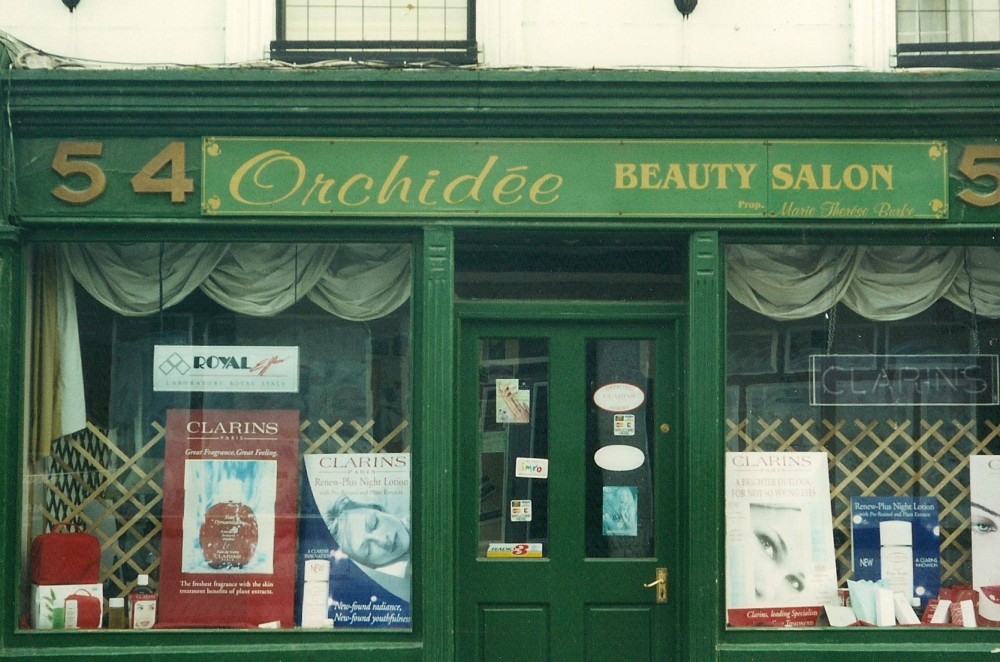 54 MAIN STREET, NORTH SIDE
In the 1850's, the immediate lessor of the first nine houses on this side of Main Street was a John Clarke. I assume he is the John Clarke from Bloomfield, listed under 'Gentry' in a Directory from 1856. A less likely possibility might be John W. Clarke who, twenty years later, was a substantial landowner in Emo.
[It is worth noting that 'Immediate Lessor' does not necessarily mean owner or landlord. It refers to the person from whom the occupier was leasing the property and 'Immediate' is used because there were often long chains of letting and sub-letting. In fact, it was common for the immediate lessor to be a middle-man rather than the outright owner of the property.]
Built circa 1850, this was originally the private residence of Matthew Coss who, from the 1880's, was succeeded, by the Brennan family. In 1901, William Brennan, described as a 'carrier' was living here with his wife Jane, a shopkeeper. Both were Queen's County natives. On Census Night there were also two boarders in the house; Harry Dowling a carpenter, and Michael Cullen a mason. Ten years later, the widowed Mrs Brennan was still here with three grandchildren; the youngest, John, a scholar (as schoolchildren were invariably known in those days); James, a sixteen-year-old labourer and May, aged 18, a monitress (in modern terms, a teacher's assistant). Mrs Brennan was now running a lodging house and, on Census Night, she had three boarders: John Delaney, a clerk; Patrick Farrell a labourer; and Thomas Carroll, a painter.
In 1913, the Brennans were followed by the Walsh family, at least three generations of whom were bakers. As well as the bakery, they also had grocery shop. A large sign on the gable facing into the Market Square read: Walsh's Plain & Fancy Bakery. Player's Navy Cut Cigarettes. Can you imagine such an advertisement today?
The shop was then vacant for some time and it was in 'the breadroom' here, in the mid-1960's, that myself and Jack Walsh's (see next page) nephew, Greg Fennell murdered Beatle songs. Armed with a Jumbo acoustic and an Egmond Solid Seven plugged into the back of a Bush radio, I have a clear memory of I Saw Her Standing There dying an particularly pathetic death. Our only public performance, incidentally, was for elderly patients in Shaen Hospital where we mimed to reel-to-reel recordings of The Beatles. I sometimes wonder if I'm imagining this, but Greg - today a café habitué and popular well-travelled man of leisure - assures me that that's exactly what we did. So let the history books show: we were pioneers, a pair of avant-gardeners years ahead of our time because, long before miming became ubiquitous on tv and Madonna faced accusations of not singing live, we were lip-synching out in Shaen.
After that musical interlude.....
The premises were next occupied by Dunnes, the well-known confectioners who also had a shop in Church Avenue and, later still, in Kelton House in Lyster Square. Joe Dunne - affectionally known as 'The Bun' - was also a popular local politician. In 1999, for instance, he was elected to both the Town Commission and Laois County Council on the first count. On June 16th 2000, in his capacity as Chairman of the Council, he officially opened the People's Park down the New Road. After his death, his seat was taken by his daughter Elaine who, in 2003, became Mayor of Portlaoise. Her brother John is an auctioneer and talented amateur photographer in the town today.
From 1989, this was a Bridal Shop, Aisle of White Branch Two, run by Alison Browne, née Lewis. The proprietor of the above business was Marie Therése Burke née Drennan, originally from Coote Street. Today, June 2014, the shop is part of Gerry Brown's jewellery business.